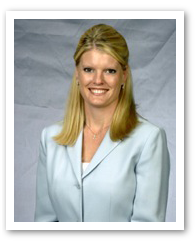 Katie Hall, who was known as Katie Cochran during her playing days at perennial power Louisiana Tech University, knows the game of basketball after lettering four years under legendary Hall of Fame Coach Leon Barmore in the mid to late '90s.
During her collegiate playing days, Hall helped guide the Lady Techsters to a record of 121-15, the 1998 Final Four and the NCAA National Championship game against Tennessee in Kansas City. While she donned the Columbia blue uniform at Tech, the Lady Techsters won four straight Sun Belt Conference championships and participated in four straight NCAA Tournaments.
Katie was the starting point guard at Byrd High School for four years and led the Lady Jackets to a pair of LHSAA 5A state titles. She was honored as the MVP in the 1993 LHSAA state championship game, and her Lady Jackets were ranked No. 1 in the nation in the USA Today Top 25 poll her senior season.
Following her playing days at Louisiana Tech, Hall served as the administrative assistant for one year at Ole Miss and two years at Louisiana Tech. She was promoted to full-time assistant coach and recruiting coordinator where she served for four seasons, helping guide the Lady Techsters to four straight Western Athletic Conference titles and four trips to the NCAA Tournament.
After becoming a mother to her first child, Landon, in 2006, she walked away from college coaching and started conducting private lessons, camps and clinics throughout the year. Her clients include boys and girls as young as 6 years of age up to high school students. Three of her clients have received college scholarships, including a Lady Techster, Laura Owen, from Benton High School.
"You cannot find a better teacher of the game than Katie Hall. She is a passionate, energetic leader and young people will benefit from her positive influence on and off the court." – Legendary Hall of Fame Coach, Leon Barmore